The second edition Automotive Industry Forum & Awards Gala to take place on October 22 at Bucharest
Posted On September 30, 2019
---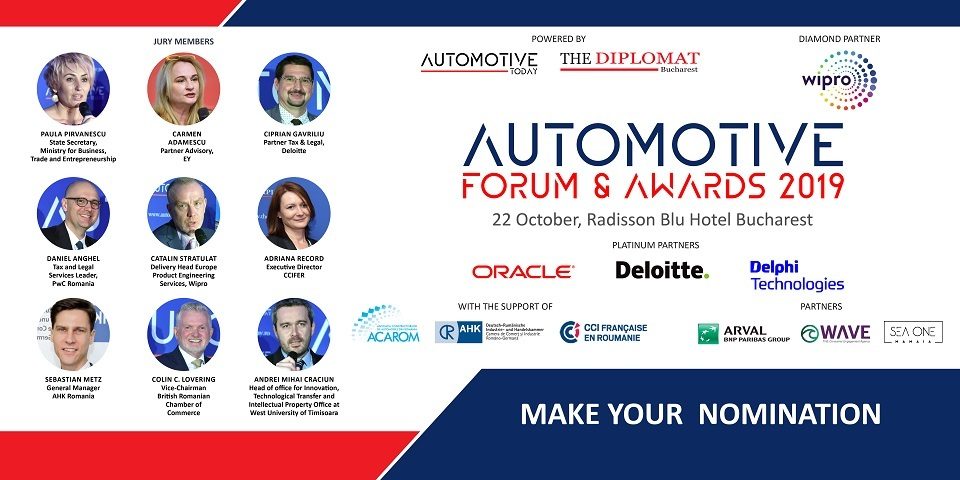 Automotive Today powered by The Diplomat – Bucharest organizes the Automotive Industry Forum & Awards for Excellence Gala – 2nd Edition, on 22nd of October at Radisson Blu Hotel in Bucharest, starting15:00.
Automotive Forum & Awards brings together delegates from the Romanian automotive sector and Government representatives, in a half-day event, with engaging keynote sessions by industry leaders, interactive panel discussions, networking opportunities and Gala Awards Dinner.
EVENT AGENDA
15:00 – 15:30 Registration & Networking Lunch
15:30 – 15:45 Opening address
Romanian Automotive landscape
Trends for the Automotive Industry: Connected cars, Blockchain, Predictive Analysis, 3D Printing, Big Data Analytics
Updates on tax incentives, financial support and fiscal facilities
The logistics revolution: An expert advice to anticipate the market
Will the Infrastructure sector catch up with automotive industry demands?
Legislative framework for professional and dual education systems and workforce trends
18:00 – 18:30 Networking cocktail
×          Official opening & Dinner
×          Awards ceremony
The debate panel will host speakers such as:
Ciprian Gavriliu, Partner, Deloitte (moderator for CEO Leaders Debate)
Christophe Dridi, MD Renault Group Romania & CEO of Automobile Dacia SA
Gabriel Sicoe , President Acarom
Catalin Stratulat, Delivery Head Europe Product Engineering Services, Wipro
Christian von Albrichsfeld, Head of Country Continental Romania
Ana Dumitrache, Country Head CTP
Maarten Oonk, Managing Director at Deloitte Center for the Edge, Deloitte
The event will host the Awards for Excellence Gala in which Individuals and companies across ten categories are to be honored at this prestigious award ceremony. These awards reflect the enthusiasm for development and innovation within the industry while development of individuals is encouraged through creativity of ideas, adaptation and flexibility, planning and pioneering new ways, new thoughts and new ideas. It provides the opportunity to connect, debate and share the hot topics within the specific landscape, and, to celebrate the achievements of the best projects and results.
You can find details on Categories Awards and judging criteria here. The Jury members are:
Paula Pirvanescu, State Secretary, Ministry for Business, Trade and Entrepreneurship
Carmen Adamescu, Partner Advisory, EY
Ciprian Gavriliu, Partner Tax & Legal, Deloitte
Daniel Anghel, Tax and Legal Services Leader, PwC Romania
Catalin Stratulat, Delivery Head Europe Product Engineering Services, Wipro
Adriana Record, Executive Director CCIFER
Sebastian Metz, General Manager, AHK Romania
Colin C. Lovering, Vice-Chairman – British Romanian Chamber of Commerce
Andrei Mihai Craciun, Head of office for Innovation, Technological Transfer and Intellectual Property Office at West University of Timisoara
The Automotive Industry Forum & Awards for Excellence Gala is an arena where key players in the field can discuss the impact of market dynamics and new technologies on the current state of the manufacturing, operational and supply chain scenes, as well as future opportunities.
The event will also see the launch of the second edition of our annual Automotive Today magazine, which analyses the trends that are driving the transformations in the automotive industry and how companies should fall in line for future success.
Automotive Today offers a communication platform for the leaders and experts of the progressively evolving industry, to share information, ideas and initiatives, to speak openly, make new connections and build new collaborative relationship.
---
Trending Now