The Automotive Industry Awards Gala celebrated the winners of the industry on October 22 at Bucharest
Posted On October 23, 2019
---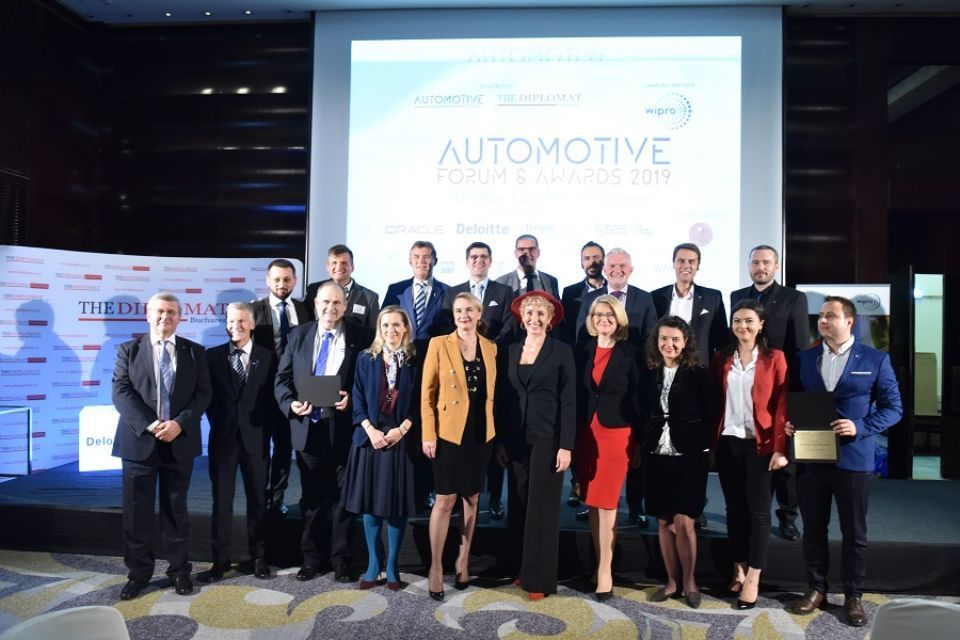 Automotive Today, the integrated platform powered by The Diplomat-Bucharest hosted on Oct. 22nd,  The Automotive Awards for Excellence Gala in which individuals and companies across 11 categories were honoured at this prestigious award ceremony.
These awards reflects each year the enthusiasm for development and innovation within the industry while development of individuals is encouraged through creativity of ideas, adaptation and flexibility, planning and pioneering new ways, new thoughts and new ideas. It provides the opportunity to connect, debate and share the hot topics within the specific landscape, and, to celebrate the achievements of the best projects and results.
The Jury members who made time to engage in the difficult journey of selecting the winners from a strong list of nominees:
Paula Pirvanescu, State Secretary, Ministry for Business, Trade and Entrepreneurship
Carmen Adamescu, Partner Advisory, EY
Ciprian Gavriliu, Tax Partner, Deloitte
Daniel Anghel, Tax and Legal Services Leader, PwC Romania
Catalin Stratulat, Delivery Head Europe Product Engineering Services, Wipro
Adriana Record, Executive Director CCIFER
Sebastian Metz, General Manager, AHK Romania
Colin C. Lovering, Vice-Chairman – British Romanian Chamber of Commerce
Andrei Mihai Craciun, Head of office for Innovation, Technological Transfer and Intellectual Property Office at West University of Timisoara
The Automotive Industry Forum & Awards for Excellence Gala is an arena where key players in the field can discuss the impact of market dynamics and new technologies on the current state of the manufacturing, operational and supply chain scenes, as well as future opportunities.
The event will also see the launch of the second edition of our annual Automotive Today magazine, which analyses the trends that are driving the transformations in the automotive industry and how companies should fall in line for future success.
The winners of The Automotive Awards Gala edition are:
CATEGORY:  INNOVATION AWARD  
Finalists: DELPHI TECHNOLOGIES , ADIENT , ROBERT BOSCH
Winner: CONTINENTAL ROMANIA CORY Commute Ride Sharing)  
CATEGORY: SUPPLIER EXCELLENCE AWARD
Finalists: HELLA ROMANIA, PREH IASI, SCHAEFFLER ROMANIA, AUTOLIV ROMANIA, ADIENT, MATEROM
Winner:  HELLA ROMANIA
CATEGORY: CSR AWARD
Finalists: FORD, ROBERT BOSCH, CONTINENTAL ROMANIA , SCHAEFFLER
Winners: FORD ROMANIA
CATEGORY: COMPANY OF THE YEAR
Finalists: CONTINENTAL ROMANIA , DACIA, DAIMLER ROMANIA , DELPHI TECHNOLOGIES,
Winner: CONTINENTAL ROMANIA
CATEGORY: LOGISTICS EXCELLENCE AWARD
Finalists: CTP, GEBRUDER WEISS , DB SCHENKER
Winner: CTP
CEO OF THE YEAR    
CRISTOPHE DRIDI, CEO DACIA
LIFETIME ACHIEVEMENT AWARD
DAN GRAMA, Technical Competencies Manager, Delphi Technologies
JURY SPECIAL AWARD         
ROBERT BOSCH – For 25 years of resilience and performance on the Romanian market
CATEGORY: EDUCATION COMMITMENT AWARD   
Finalists: DRAXLMAIER GROUP ROMANIA
PORSCHE ENGINEERING
ROBERT BOSCH
SCHAEFFLER ROMANIA
Winner: SCHAEFFLER ROMANIA        
CATEGORY: INVESTMENT OF THE YEAR
FORD ROMANIA
BUSINESS PROCESS EFFICIENCY AWARD, powered by ORACLE                         
AUTO TOTAL
---
Trending Now