REORGANIZING THE WORK – SAFETY&HEALTH MAKE THE AGENDA E-conference, May14th, 15:00 – 16:00
---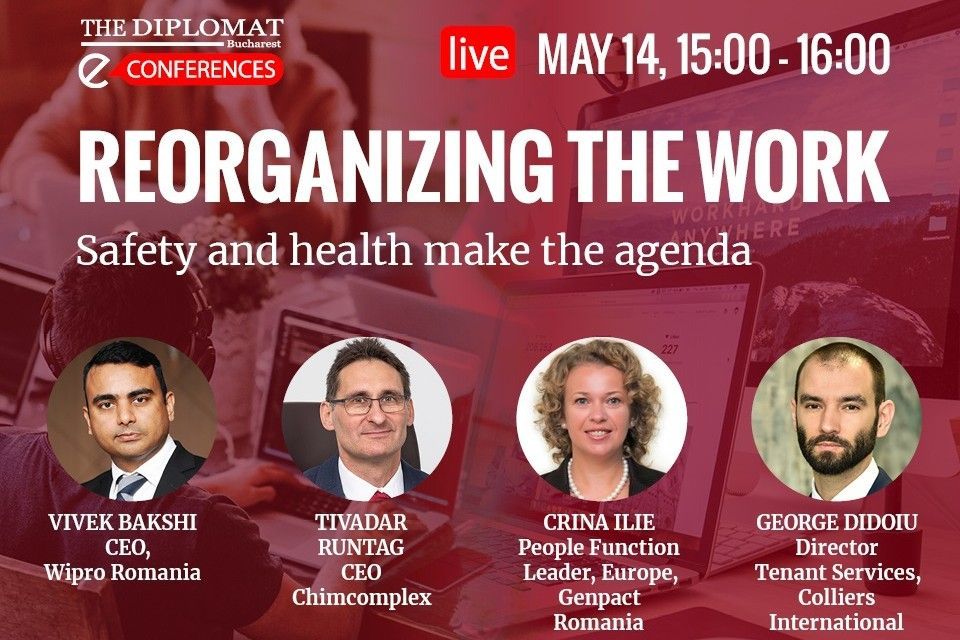 The Diplomat-Bucharest organizes on May 14, between 15:00- 16:00 (Romania's hours, the e-conference dedicated to the current health & safety aspects defining the workplace right now:
 REORGANIZING THE WORK – SAFETY&HEALTH MAKE THE AGENDA
The need to reinvent (again) the workplace and the employees' safety is the number 1 topic right now in the agenda of any responsible company.
The past months gave us major lessons in addressing the real priorities in terms of workplace and employees, as well as the individuals' personal lives and space. Every public discussion since the year started turned into a human-oriented topic in real terms or just for campaigning. In the meantime, with so many industries highly affected, the general economy hurts and companies must think of continuity and business growth.
The event benefits from the support of Gold Partner Wipro, Partners Wave and Sea One, with the support of ANIS (the Employers' Association of the Software and Services in Romania), Cluj IT, Media Partners: Financial Intelligence, Economistul, Romania Durabila, Club Economic and Outsourcing Today.
Which are the OBJECTIVES, the LESSONS and the RIGHT APPROACH this year to continue the business in sustainable ways?
The panel of discussions will be sustained by specialists and opinion leaders such as: VIVEK BAKSHI, General Manager – Wipro Technologies, TIVADAR RUNTAG, CEO Chimcomplex. CRINA ILIE, People Function Leader Europe, Genpact, RADU MAVRODIN, VP HR Department OMV Petrom, and the debate facilitator of the conference, GEORGE DIDOIU, Director Tenant Services Office Agency Romania.
EVENT AGENDA
THE FUTURE OF WORK
Possible scenarios for the future of work and measures to be considered and implemented at the workplace
SAFETY @ THE WORKPLACE
New rules, new landscape, actual ideas that function at your workplace
KEEPING PEOPLE ENGAGED
What to expect from employees, what the employees expect from the company, employee engagement updates, regaining the trust
HEALTH FIRST
Addressing the health aspects within the company
THE TOUGH TRUTH
Legal aspects of labor dynamics such as correctly addressing the layoffs, remote work procedures, playing fair and avoiding the abuse
---
Trending Now