Automotive Power Breakfast on Research & Development takes place on July 2
---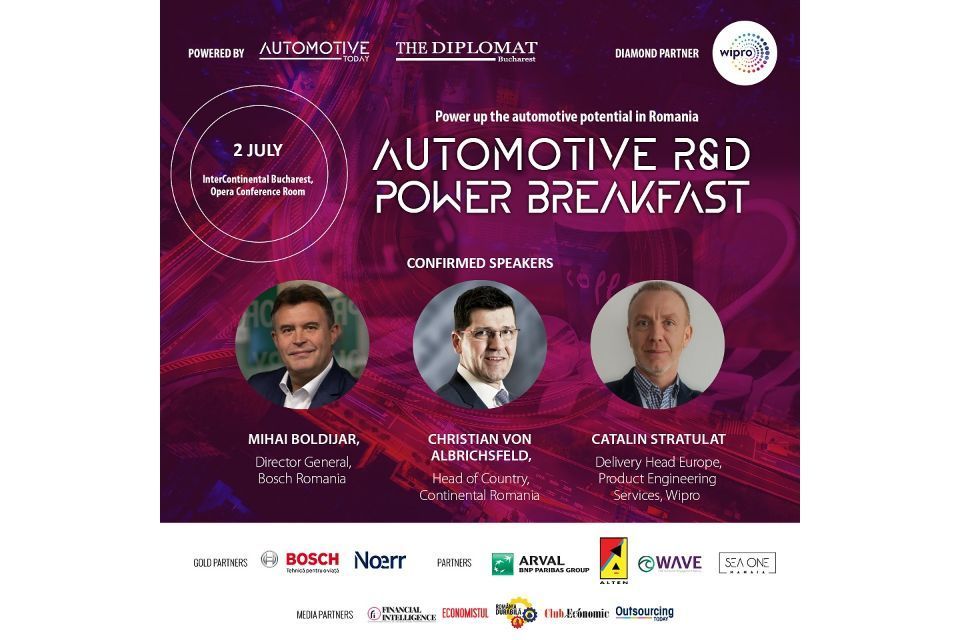 2020 will be an important year for the automotive industry, with the new emerging technologies, including 5G, making the discussion about the autonomous cars more tangible. 
To better put into light the updates, trends and expectations of the industry, The Diplomat-Bucharest dedicates the POWER BREAKFAST event to RESEARCH & DEVELOPMENT in the automotive industry on July 2, at InterContinental Hotel, Opera conference room.
(Note from organizers: The event may be organized online in the case that current context will exclude the indoor venues).
The AUTOMOTIVE POWER BREAKFAST R & D is the platform where specialists in the field share their expertise on the field, along with the key leaders and stakeholders in the industry, addressing topics such as:
LEGAL AND REGULATORY ASPECTS AND POLICY MAKERS IN AUTOMOTIVE R&D
OPENNESS AND READINESS FOR DISRUPTIVE INNOVATIONS
COLLABORATIVE AUTOMOTIVE R&D FOR SAFE, ENERGY-EFFICIENT AND AFFORDABLE MOBILITY OF PEOPLE AND GOODS ON EUROPEAN ROADS
AFFORDABILITY AND INNOVATIVE SOLUTIONS IN R&D
RESOURCE-EFFICIENT, FLEXIBLE MANUFACTURING AND OPTIMIZATION OF PRODUCTION PROCESSES
THINKTANKS AND ENABLERS OF INNOVATION IN AUTOMOTIVE
The outcome of AUTOMOTIVE POWER BREAKFAST R & D event will be endorsed by extensive reporting on The Diplomat-Bucharest and Automotive Today's online platforms in order to enable the well-deserved knowledge sharing among all the stakeholders of the automotive sector, as a strategic partner for the business growth of the Romanian overall economy landscape.
The event addresses a wide array of specialists from automotive manufacturers and mobility companies, component manufacturers, technology solution providers, Electric power equipment for EVs, telecom infrastructure stakeholders, mart factory suppliers/Industrial robots and consultants in the automotive industry.
---
Trending Now