Uber, BlaBlaCar, Renault Group join forces for sustainable mobility by launching the "Mobilité360" project
---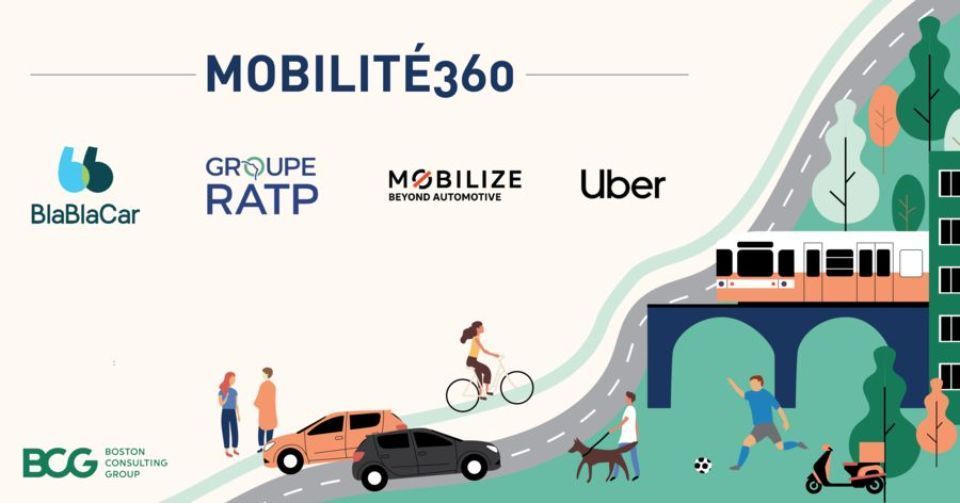 Four major mobility players are jointly publishing a manifesto on Urban Mobility in which they lay out a common vision for future mobility.
As a result of a collective reflection initiated within the "Mobility360" project, BlaBlaCar, Mobilize (Renault Group), RATP and Uber, supported by the Boston Consulting Group, are co-signing a manifesto on urban mobility in which they share their common vision, method and commitments for the development of sustainable and optimized mobility, addressing the needs of users, cities and operators.
Considering the recent proliferation of new mobility services and the lack of dialogue between operators and public authorities, these four major mobility players have built together a new vision of urban mobility based on four pillars:
Having a positive environmental impact by reducing pollution caused by transportation systems, and reducing the carbon footprint of service fleets and operations
Promoting optimized use of public spaces and improving quality of life by fostering cities that are more welcoming and less congested
Ensuring all users have access to mobility services by developing affordable and accessible offers
Improving user experience by providing a safe, reliable, and easy-to-use transportation system
Bringing together a wide range of expertise, members of "Mobilité360" intend to study the creation of new infrastructures to foster the adoption of green and shared transportation. They also wish to explore the development of first and last mile on-demand shared mobility services, as well as complementary services to ensure service continuity during off-peak hours, including at night. In the short term, "Mobilité360" partners would like to launch an experiment allowing citizens to test a diversified, more flexible, and greener mobility offer.
In order to achieve their goal, "Mobility360" project members are calling for a more collaborative approach, based on a common and organized dialogue between operators and public authorities, an encouraged and supervised sharing of information and expertise, and the co-construction of innovative mobility solutions.
---
Trending Now