Prime Minister Ciuca: "We will install 18,000 charging stations for electric vehicles by 2026"
---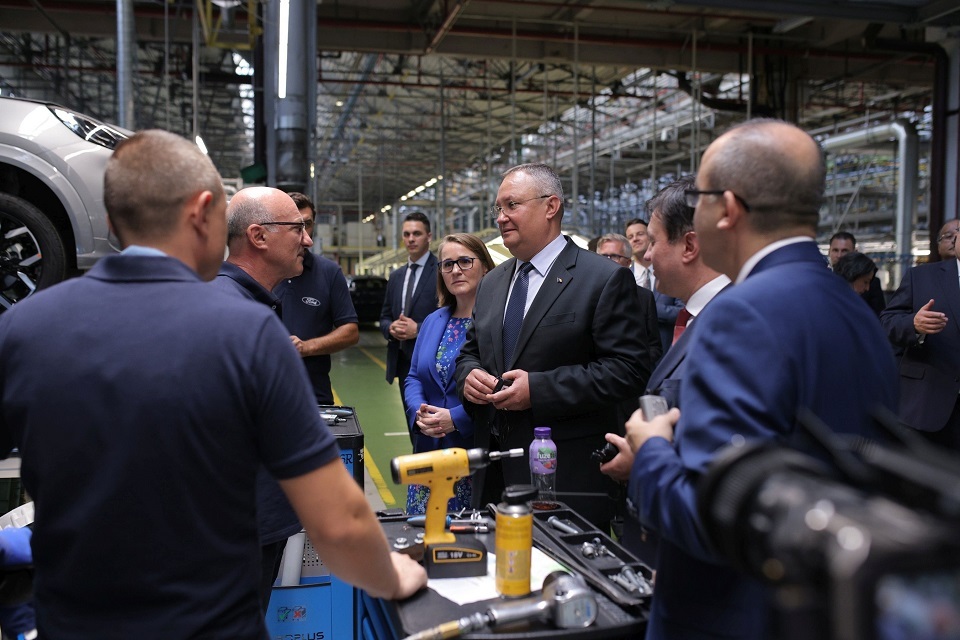 The official takeover of the Ford factory in Craiova by Ford Otosan was attended by the Prime Minister of Romania, Nicolae Ciuca, as well as representatives of the embassies of the United States of America and the Republic of Turkey, local authorities and of course Ford Otosan Craiova employees.
"It is a transfer that comes with an investment of 490 million euros in the next three years, it is an investment that aims especially at the production of four other new types of vehicles and, what is underlined, starting with the year 2024 will be produced the first fully electric vehicle. I had a very good discussion with both the president of Ford Europe and the general manager of Ford Otosan, with the technical staff of the two companies," said Nicolae Ciuca.
"We also discussed the intentions of investments and horizontal development for everything that means the need to ensure the coherent production of vehicles in Craiova. We also understand that all these new investments come with a whole series of obligations, commitments based on dialogue at the Government level, so that we can support this transition from combustion engines to fully electric motors. Practically, through this investment, Ford Craiova supports government projects to achieve the objectives assumed at the European Union level for a green transition, to succeed, from 2035, to produce and use cars that will have zero carbon dioxide emissions. It also helps us, horizontally, to be able to develop production capacities, which will support this whole approach of the business sector in Romania. As Liberal Prime Minister, since taking office, I have had a very open approach to dialogue with the business sector and an openness to everything that can mean support for the Romanian business sector and the investment sector. from abroad. We need stability, we need predictability, we need investment.
We had a whole series of elements, which were discussed at today's meeting, and both the president of Ford of Europe and the general manager of Ford Otosan raised the issue of developing the infrastructure for electric cars.
Now I can say that, at the level of the Government, there is a commitment assumed by PNRR, so that, by the end of 2026, we will build 18,000 charging stations; 13,000 are from European funds, 5,000 will be financed from the state budget. As such, all this evolution and development based on foreign and Romanian investments is based on the Government's commitment to support this sector and to complete the commitments made. Through this investment today, I was able to make it very clear that this is a strengthening of Ford's presence in the city of Craiova, it is an intensification and development of production capacity. If today there are plans to produce about 200,000 vehicles a year, next year the commitment is to produce 172,000 vehicles a year – we hope to produce even more, respectively 300,000 if possible. This is gratifying, both in terms of maintaining the attention for the development of the automotive industry in Romania and for the development of the automotive industry in Romania, because we learned today that there is a very consistent horizontal development. The general manager of Ford Otosan asked us in today's discussion to keep in mind that, in the next period, to have a dialogue regarding the arrival in Romania of other partner investors of the Ford Otosan company. We have this openness, and we support all these steps, which fit very well in the Government's efforts to protect the economy and jobs. And through today's plan we could see that there is an intention to create another 600 jobs at the level of the Ford Craiova company."
---
Trending Now