Fleet start for Schaeffler's chainless drive for e-cargo bikes
Posted On February 20, 2023
---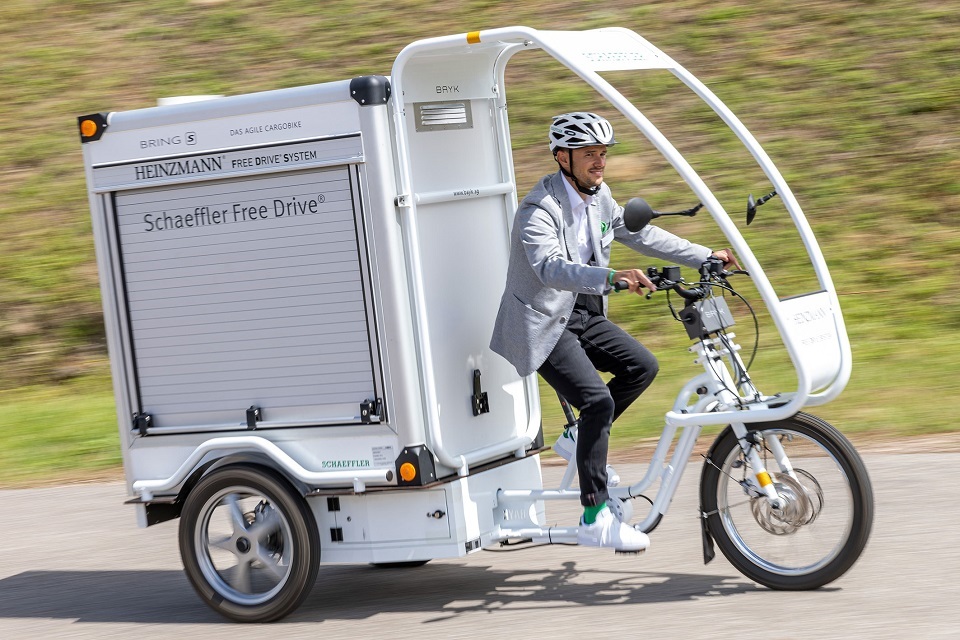 Electric cargo and utility bikes are becoming an increasingly common sight in big cities, where they are a solution for speedy, climate-friendly transportation and distribution of food, mail, medicine and more. To help with this trend, Schaeffler has been partnering with two-wheeler electric drive specialist Heinzmann GmbH & Co. KG to develop an innovative chainless drive system called Free Drive. Now, the first customer fleets using this drive hit the roads in urban traffic.
"We need to rethink mobility for tomorrow's cities," said Matthias Zink, CEO Automotive Technologies at Schaeffler AG. "Electric cargo bikes fill an important gap here, particularly in last-mile goods delivery." Schaeffler sees this as a growth market. In 2021, the global electric cargo bike market was valued at USD 630 million, nine percent up on the prior year, and is projected to grow to USD 2.14 billion by 2032 (source: Persistence Market Research).
Schaeffler and Heinzmann first unveiled its innovative chainless drive system to the public in August 2021, and have been using the time since then to get it ready for fleet production. Following successful field testing during the last month, production is now getting underway, with plans to steadily increase capacity over the next few years. The first customer to put in an order for the Free Drive, which boasts highly efficient power transmission from pedal to wheel, is CIP Mobility GmbH. CIP's mocci Smart Pedal Vehicles set new standards in efficient, low-maintenance and sustainable commercial-sector mobility in cities and industrial zones. Developed as an innovative micromobility platform, the mocci cargo bikes break with many established conventions in the bicycle industry, combining smart hardware with intelligent software and cutting-edge materials. "The partnership between Schaeffler and CIP leverages innovative power and performance to strengthen Germany's position as an R&D and production location," said CIP co-founder Dimitrios Bachadakis.
The Free Drive is an optimally matched system that consists of a pedal generator, drive motor, customer-specific battery solution, and human-machine interface (HMI). It's sold by Heinzmann to bicycle manufacturers and fleet operators. Core component of the system is its pedal generator developed by Schaeffler. It produces constant pedal resistance and provides electricity for the motor in the rear-wheel hub. It is designed in such a way that pushing the pedals requires significantly less muscle power than with conventional e-bike drives – a major benefit for cargo bike riders, especially on long delivery routes. Surplus electrical energy is stored in the bike's battery for later use. In this way, the Free Drive can deliver a total drive output of 250 watt.
---
Trending Now