Ford to expand solar panels at facilities in Cologne
---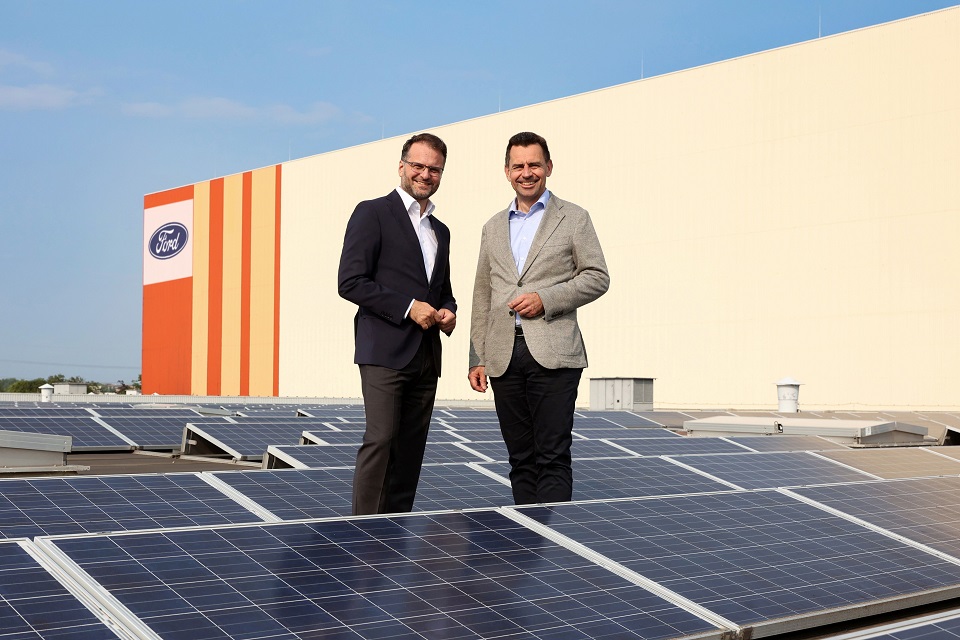 Ford has taken a significant step on its Road to Better plan for improved sustainability after signing a Memorandum of Understanding to develop an action plan for climate protection with German energy provider RheinEnergie.
The proposed actions foresee a tripling of the performance of the existing solar system on the Ford site, a joint commitment to the expansion of capacities for locally produced renewable electricity as well as measures to increase the efficiency in production processes and lighting at the Ford location in Cologne.
The solar panels on the roof of Ford's Central European Spare Parts Warehouse in Merkenich, Cologne, will be extended to generate a capacity of 3.76 MWp – equivalent to the annual electricity use of roughly 1,100 homes. The installation, due to be completed by mid-2024, will supply about six per cent of the electricity needed for the Ford facilities located in Merkenich including its development centre. In addition to the expansion of the solar panels system, Ford also supports the expansion of wind farms in the region. RheinEnergie has identified two potential adjoining areas that could provide energy for surrounding households and Ford sites.
"Ford is totally committed to freedom of movement that goes hand-in-hand with looking after the planet. Through RheinEnergie, we already source all electricity requirements for our locations in Cologne from renewable energy sources. Now, we are working together to ensure that this electricity will be produced more locally in the future," said Martin Sander, general manager, Ford Model e, Europe.
Last month, Ford opened the Cologne Electric Vehicle Center, the company's first carbon neutral assembly plant to open globally that supports the company's commitment to carbon neutrality across its European footprint of facilities, logistics and direct suppliers by 2035. The Road to Better is Ford's commitment to building a more sustainable, inclusive, and equitable transportation future, where every person is free to move and pursue their dreams.
"We all have the same goal: to make Cologne climate neutral by 2035. We can only achieve this ambitious goal if we develop and implement concrete solutions with the large companies in Cologne," said Andreas Feicht, CEO of RheinEnergie. "Together with Ford, we are working on more energy-efficient production processes and gradually decarbonising the heat supply at the Cologne site. Regional green electricity is essential to make domestic car production as a whole more efficient and sustainable."
All electric energy purchased by Ford manufacturing plants now comes from renewable sources. Since 2008, the Ford site in Cologne has been purchasing electricity exclusively from renewable sources through RheinEnergie. At the beginning of the year, a new solar power array at the Valencia plant was put into operation, which will also be further expanded to reach a capacity of 10 MWp in 2024.
---
Trending Now