European car market posts strongest Q1 performance since 2000, despite monthly decline in March
---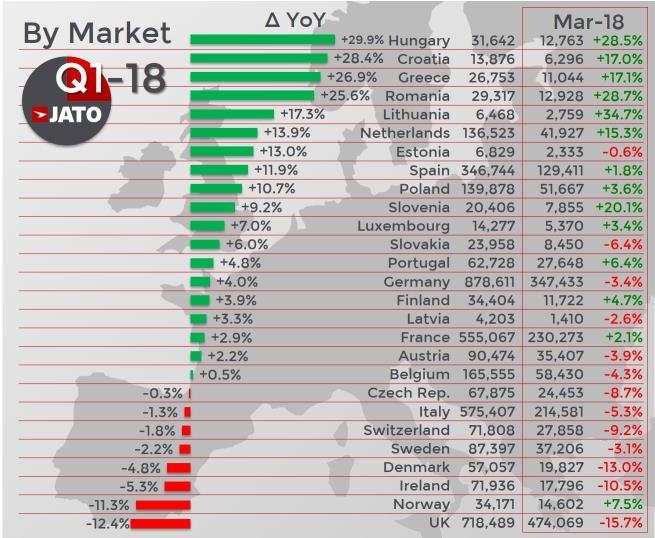 The European car market recorded its highest Q1 performance since 2000, confirming that the industry is outperforming levels seen before the economic crisis. This comes despite car registrations falling by 5.2% in March, meaning that strong growth recorded in January and February was enough to compensate results for the quarter overall.
The UK market continued to falter in Q1, with volume falling by 12.4% to 718,500 units. 474,100 of these units were registered in March, marking the UK's lowest March performance since 2014. Italian registrations also recorded a decline in Q1, with volume down 1.3% after a long period of growth. There were also falls in Norway, which posted the second biggest decline across all European markets of 11.3%, and Ireland, where the market was down by 5.3%. These were offset by strong performances in Spain, Poland, the Netherlands and the Eastern European region.
Felipe Munoz, JATO's Global Analyst, commented: "This increase in registrations for Q1 2018 is an encouraging sign and indicates that the European car industry could continue to grow this year. However, the UK continues to hold back Europe and is hampering overall growth, reflected by its poor performance in March and for the quarter overall."
Results from Q1 show that consumers are continuing to shift away from diesel and towards gasoline vehicles. Data for 18 of the 27 European markets showed that gasoline cars counted for 55% of registrations, whilst diesel cars continued to drop and counted for just 38%. Alternative Fuelled Vehicles continued their year-on-year growth and saw an increased volume of 23.4%. However, "the diesel decline isn't having an impact on the popularity of Alternative Fuelled Vehicles – most consumers are turning towards gasoline cars rather than electric vehicles," explained Munoz.
The SUV, executive and luxury car segments were the only ones to increase their volume in Q1 2018. SUVs once again continued to grow and made up one in every three cars registered in Europe, recording an increased volume of 20% for the quarter and 13.3% for March. The segment was boosted by double-digit growth in the small, compact and midsize SUV sub-segments, which were in part lifted by strong growth at PSA and the VW Group.
---
Trending Now
You may also like