Nicolae Neagu, Hella Craiova: "We need good programmers and cyber security specialists"
Posted On November 12, 2018
---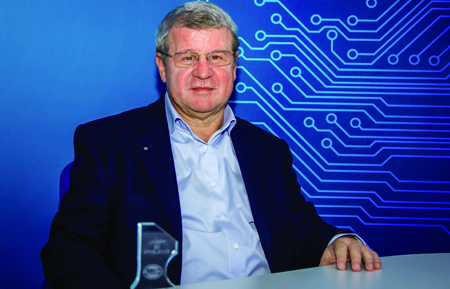 German group Hella is one of the most important automotive suppliers in the world, with more than 40,000 employees and around 125 locations in 35 countries.
The company started its Romanian business back in 2005 with the opening of its first electronics site in Timisoara. About two years later, Hella opened two development centres in Timisoara (2006) and Craiova (2007). The company now has around 3.700 employees and three production facilities in Romania.
Hella's evolution in Romania is also linked to the group's global development. Hella Romania has had a good evolution over the years and now it's facing a major shift in the automotive industry, says Nicolae Neagu, general manager of Hella Technical Centre Craiova.
"The automotive industry is facing major challenges, and the cars as we know them might radically change in the medium to long-term," he tells Automotive Today. "These changes will have an impact on the environment and cities infrastructure. We are talking about electrification, electric cars, autonomous vehicles, connectivity, car-to-car communication and so on."
He goes on to say that electrification will improve the infrastructure by creating more charging points for electric vehicles, while autonomous cars will improve traffic safety.
"Vehicles of the future will have a large amount of software and artificial intelligence, which will make them very flexible," says Neagu. "The hardware will remain roughly the same, but the difference will be made by these innovative software applications. We will see autonomous cars sooner or later and that will change the whole automotive industry and the way we see the world."
Hella Craiova is in charge with designing and developing such software applications for the automotive industry, but the company can't keep up with the high demand due to its lack of specialized workforce.
"Over 97 per cent of our employees are graduates of the University of Craiova, but we are having a difficult time finding good specialists," says Neagu. "We need to improve the education system, and we also need a different attitude the work we do. We need good programmers, because new graduates are not good enough to come work with us right after they get their diploma. We have to great efforts for training them to reach an optimal skillset."
Hella Craiova is looking for young students with potential for fast learning and development: "We want 30 per cent skills and 70 per cent attitude. If the students have the right attitude, a good potential and a strong desire for learning, we can help them build a successful career in the automotive industry."
Neagu says he needs at least 100 more employees before he takes more projects for Hella Craiova.
"Our strategy is to constantly grow in the following five years. We have started 11 years ago with 20 colleagues and now we have a team of around 340 people. The goal is to reach 400 employees by 2023," he adds.
A significant percentage of the Hella products in Romania are designed by the employees of the Timisoara and Craiova technical centres, which produce for the energy management segment (battery sensors, DC converters, fuel control modules, LiIon battery management systems in electric cars) as well as systems specific to the autonomous driving area (Compact Radar 77GHz ) and safety of driving and traffic participants.
In Craiova, approximately 300 employees will move to a high-tech building with state-of-the-art facilities in the next year.
The vast majority of Hella products that are designed in Craiova are also manufactured in the company's local production facilities. "We have a current contract with General Motors, but our main clients are Daimler, Volkswagen and BMW," says Neagu.
One of the biggest challenges for Hella's site in Craiova is to find cyber security specialists, much needed for developing safe software applications that integrate into the car system.
"We need quality people and we want to become an important player for the automotive industry in Craiova," says Neagu. "We can achieve our goals by changing our mentality and the way we interact with our young employees."
Hella's representative concludes that Romania needs to restructure its educational system in order to have a more skilled workforce for the future.
---
Trending Now
You may also like