Christophe Dridi, CEO Dacia: We will launch an electric Dacia when the market will be ready for it
Posted On October 21, 2019
---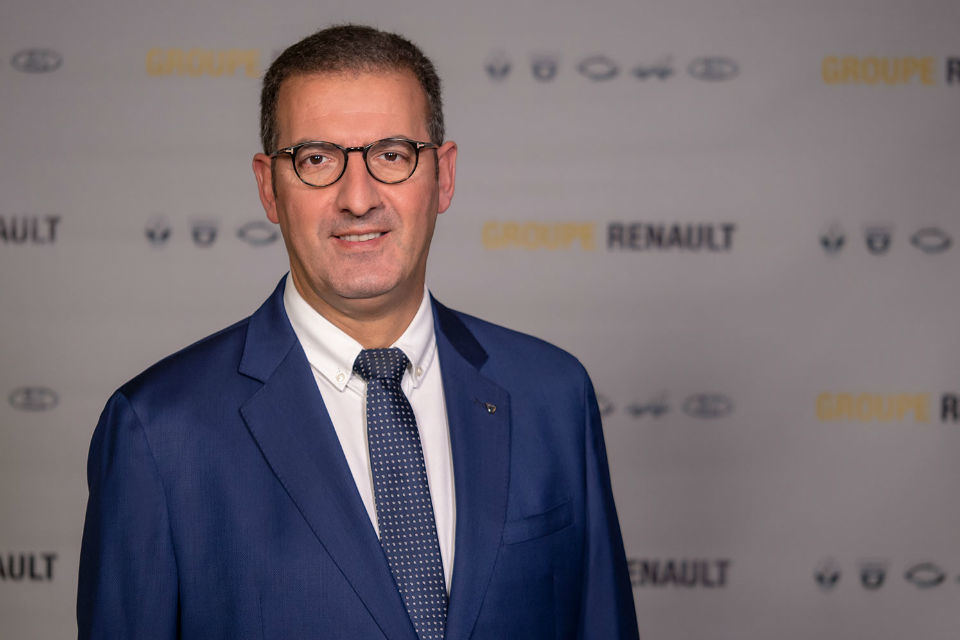 Dacia has a long history associated with Renault, the French brand which first worked with Dacia plants in Romania in the 1960s, before acquiring them fully in 1999. The brand concept is simple: to shake up preconceived ideas. Dacia produces spacious, robust vehicles of original design that are affordable for everybody.
Dacia vehicles offer good value for money. Relaunched by parent company Groupe Renault in 2004, the Dacia range has been expanding constantly and buyers have a wide array of vehicles to choose from, ranging from Dacia Duster, a sporty all-terrain vehicle, to family vehicles such as the Dacia Sandero and Dacia Logan MCV. The concept continues to enjoy great success with over five million Dacias sold in Europe since the brand's revival in 2004.
Automotive Today talked to Christophe Dridi, Managing Director of Automobile Dacia and Groupe Renault Romania to find out more about the company plans and goals for the future.
Dridi is a graduate of Ecole Supérieures des Sciences et Technologies de l'Ingénieur Nancy, France, and holds an MBA INSEAD degree. He started his career in Renault in 1993 as an engineer. In 2001 he joined the Renault-Nissan Alliance in Japan where he was quality manager.
He next became Quality Director at Renault Mexico and then he was in charge of incident data at Technochentre within Renault France. In 2009, he became manufacturing director of the Casablanca Plant and then in Tangier, both in Morocco. As of October 2016, he has managed the Dacia Car Plant in Mioveni.
How do you see the evolution of Romanian automotive industry in recent years?
The automotive industry is very important for Romania. We represent 14 percent of the GDP, and 26 percent of the exports. It is a big part of the Romanian economy. The automotive industry is a treasure for Romania. Car production and building are very good indicators for the economy. Romania has the chance to host Dacia and Ford here. I would like all Romanians to understand that they have a treasure.
You have to take care of it; you have the responsibility to maintain it and to develop it. You have to take into account the new challenges for the future. 
What are the development perspectives of the automotive industry in our country in the medium and long term?
The number of new cars we are selling in Romania is increasing, which is a good point. Last year, we sold around 180,000 cars. Probably this year it will be around 200,000. The difference between 2018 and 2017 was an increase of 20 percent. We are not at the same level as in 2008-2009 before the crisis, but the trend is coming back. But there is a big threat, namely used cars. Used cars are very old, they are polluting. They are not safe; they don't have the latest safety technologies. And they don't bring any money. When a used car comes to Romania, the state earns nothing. If you bill a car in Romania, you pay taxes, you give jobs to people and the state earns around 3,700 Euro per every new car. There is no reason to accept used cars. Some years ago, there was an ecotax, but unfortunately it was cancelled and not accepted by the European Union. We have to work with the EU to find a good way to stop the used cars. We need to find the right mechanism to stop the import of used cars. We have to follow the law, to work with the authorities to find a good way of doing this. For every new car we sell in Romania, there are also four used cars from imports – the ratio is still one to four. Since 2008, it's a little bit decreasing thanks to the "Rabla" programme. Rabla is very good and it should be extended. We estimate that at least 60,000 tickets are needed for the third wave of Rabla programme.
We also need a program that focuses more on hybrid and electric cars. I drive a Renault Zoe in Bucharest and I absolutely love it. It's a great car to drive in the city. 
What do you think of the evolution of electric and hybrid vehicles on the Romanian market?
It's an increasing market. It's still small, but it has a lot of potential. We have already sold around 200 units of Renault Zoe in the first six months. I am confident that we can double that amount in the second part of 2019. There is a lot of potential for electric cars in big cities such as Bucharest, Cluj-Napoca, and Timisoara. When you have a good car, the only point you need to focus on is the expansion of charging points. Romania has to speed up its infrastructure for battery chargers. When you sell an electric car, you should also make sure that you will install a charger for that car. If you live in Bucharest, how do you charge? You need to have charging points. 
Can you tell us what are your plans for electrification at Dacia?
When I arrived in Romania in September 2016, I was the plant manager in Pitesti. At that time, we were preparing the industrialization of the new Duster, which was launched at the end of 2017. We were wondering how we can mobilize all the people as to be motivated all in the same direction. Since then, we always say that the new Duster is our child. This message can be seen everywhere in the plant and was very good for mobilizing people. I will answer your question in the same way I did a few weeks ago. So, our child needs some sisters. And then everyone started to wonder who are the sisters of the new Duster. The question is not about if we will have an electric Dacia or not, the question is when. We already have the technology because we are part of the Alliance. Our future projects will have the capability to add this technology, but we will launch it when the market is ready. Customer is king, infrastructure is also a factor, but we must not forget about regulation. 
Are you concerned about meeting the CO2 emissions target for 2020?
Of course, but we are prepared. It's very much a concern as it is to keep our people happy. It's a concern because we are a responsible company. We have the chance to be in the Renault Group, we can manage at the group level. Furthermore, we have the required technologies. We will continue to produce cars at full capacity, no doubt about that. We will increase the production of LPG cars, because it allows us to lower emissions. 
What are your priorities for 2020?
Increasing capacity is very important. When you look at other countries, there is one other country that produces more Dacia cars than us. This is not good. It means that you change the centre of gravity. Thanks to the fact that we will increase capacity, we will produce more than 400,000 cars. Currently, our capacity is around 350,000. It is very important to remain the biggest production centre in order to continue to attract the suppliers.
We also have to increase the local integration. We produce 1,500 cars every day. Our stamping department in Mioveni is producing for all the other plants. We are talking about a hundred tons. The percentage of metal sheets coming from Galati was around one percent at the beginning of the year. Now it's around six percent, but still unacceptable. If you have quality concerns with a certain supplier, you need to help them.
After local integration, our second priority is the competitiveness of the plant. The costs are increasing in Romania. It's normal because salaries are increasing, but you always have to find a way of compensating rising costs with competitiveness. We have no choice; we need to automate, to create new jobs, and to prepare the plant for the future. We also need synchronized production. Our suppliers around the plant produce on order for lean manufacturing, which is great for efficiency and competitiveness.
What would be the challenges for the next year?
The automotive industry has four main priorities. Infrastructure is one of them, specifically the Pitesti-Sibiu highway and access to the West. Infrastructure is also about railroads. The average speed of trains in Romania is 15 km/h. This is unacceptable, because trains can be a much better alternative to trucks. The second challenge would be used cars. Third is local integration, and the last challenge is education. We have many talents in Romania, but we need to learn to work with them.
(From the print edition)
---
Trending Now
You may also like