Four main trends for the automotive industry: electrification or alternative powertrains, autonomous driving, connectivity and shared mobility, highlighted at The Automotive Industry Forum, 2019 edition
Posted On October 23, 2019
---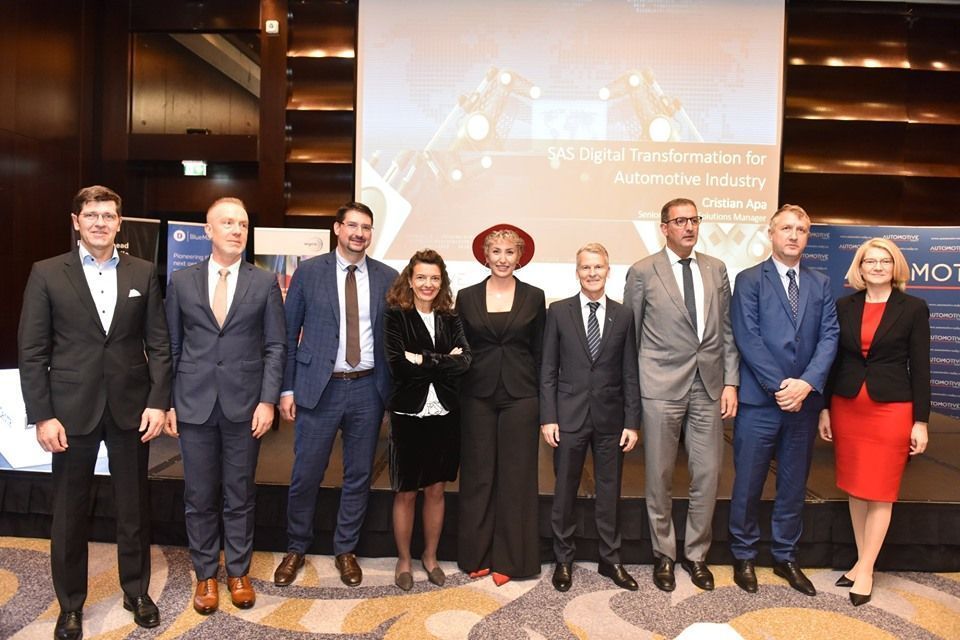 Automotive Today powered by The Diplomat – Bucharest organized the second edition  of The Automotive Industry Forum & Awards for Excellence Gala on 22nd of October at Radisson Blu Hotel in Bucharest.
Automotive Forum & Awards brought together delegates from the Romanian automotive sector and Government representatives, in a half-day event, with engaging keynote sessions by industry leaders, interactive panel discussions, networking opportunities and Gala Awards Dinner.
The first session of The Automotive Forum 2019 underlined the need to push forward the innovation, the talent, the automation and the education. The partnerships and dual education projects don't come easy but so it is the evolution – it comes with costs, efforts and the joined willigness of all stakeholders: private companies, academic community, decision makers and business associations.
Christian von Albrichsfeld, Head of Country, Continental Romania: "We see four main trends for the automotive industry: electrification or alternative powertrains, autonomous driving, connectivity, shared mobility. The most disruptive one is clearly the replacement of combustion engines. Ownership of the vehicles might change in big cities such as Bucharest. We will also a big push on the electric vehicles market"
Paula Pirvanescu, State Secretary, Ministry for Business, Trade and Entrepreneurship: "Romania is one of the best countries in the EU in terms of business relocation. Romania is a real hub of the automotive industry. Ford and Renault are two major manufacturers and we have made efforts to bring in a third largest car manufacturer in Romania. We are in discussions with other car manufacturers, we hope to have positive news in the coming year,"
Ana Dumitrache, Country Head CTP: "We have a lot of automotive players in our portfolio. We believe that Romania is a developing environment that poses obstacles, but also offers opportunities. I think Romania is still an opportunity for investors in the automotive industry"
Christophe Dridi, CEO of Automobile Dacia: "We are really in a transition period. It's very difficult to say that will happen next. For sure, from global point view, the global warming is a key issue for everybody. I have decided to drive only the electric vehicle Renault Zoe in Bucharest. We need better infrastructure for charging electric vehicles. The automotive industry is very important for Romania. We represent 14 percent of the GDP, and 26 percent of the exports. It is a big part of the Romanian economy. The automotive industry is a treasure for Romania"
Ian Pearson, President, Ford Romania: "Ford Motor Company wants to become the Ford Mobility Company, because this is the future and we have to embrace these changes in mobility. The cost of vehicles will increase because of the new technologies. We have to engage with people when talking about our new vehicles. We have to get smarter, more agile"
Adrian Sandu, General Secretary ACAROM: "The car industry in Romania has a good development and we hope that this trend will continue. A third manufacturer in Romania, besides Ford and Dacia, would have the conditions for a successful business. ACAROM permanently supports the development of the Romanian automotive industry"
Catalin Stratulat, Delivery Head Europe Product Engineering Services, Wipro: "Everyone expects digital content, full connectivity in the car. A car has over 100 million lines of code. This brings a lot of challenges when it comes to security"
Aniello Pepe, Automotive Industry Solutions Director at Oracle: "Digitalization implies embracing new technologies and achieving data transparency. Hyper-connectivity and digital threads transform and automate processes breaking business silos. Speed of innovation is critical. Leverage quick results to overcome cultural barriers to transformation"
---
Trending Now