Here are the winners of the third Automotive Awards For Excellence Gala by The Diplomat-Bucharest!
Posted On November 25, 2020
---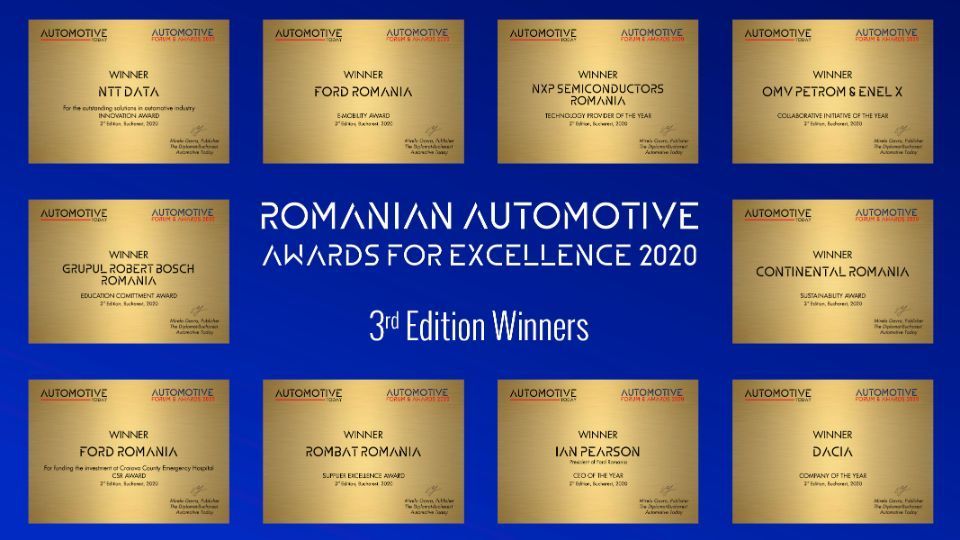 Automotive Today powered by The Diplomat – Bucharest organized the third edition of the Automotive Awards for Excellence Gala. The winners of each category were announced during the online event that took place on November 24.
On behalf of The Diplomat-Bucharest & Automotive Today, we thank you for attending  the online edition of  Automotive Forum And Industry Gala Awards 2020.
The Event benefited from the support of DIAMOND PARTNER Wipro, PLATINUM PARTNERS Deloitte, Bosch Romania, EY, NXP Semiconductors Romania, BASF Romania, Klarwin, STRATEGIC PARTNER ACAROM, PARTNERS Groupe Renault, Continental, Ford, MET, NTT Data, Sea One, Wave, Learning Partner Bookster, SUPPORTING INSTITUTIONS AHK, CCIFER, Romanian Business Chamber, ANIS, ClujIT and MEDIA PARTNERS Outsourcing Today, Financial Intelligence, Economistul, Romania Durabila, Club Economic.
We also thank all the Jury Members & Panelists for their input and support, along with the CEO Leaders Debate's Moderator Adrian Sandu, Secretary General ACAROM and Automotive Awards Gala's Host Colin C. Lovering.
Here are the WINNERS and the FINALISTS of the Automotive Awards For Excellence Gala 2020:
INNOVATION AWARD – NTT DATA
CONTINENTAL ROMANIA
SCHAEFFLER ROMANIA
PREH ROMANIA
MARQUARDT SIBIU
NTT DATA
MODEX blockchain
NXP SEMICONDUCTORS
GROUPE RENAULT
This award has been offered for technical innovation to NTT Data for all the projects nominated: NTT DATA – Human Driving Perception Understanding Solution
NTT DATA – BaBeLe: Privacy-friendly Authentication
NTT DATA- In-vehicle Virtual Assistant
Maria Metz, Deputy CEO NTT DATA Romania, said: "I'm really honored and proud because I see clients and partners in the audience and this gives me a great feeling of belonging. I'm very proud to be here representing such a great team as the NTT Data Romania team. The automotive industry has been in our strong focus for over 15 years and now it represents our flag industry."
E-MOBILITY AWARD – FORD ROMANIA
FORD ROMANIA
NEOBILITY
E.ON & MOL ROMANIA – NEXT_E
PORSCHE ROMANIA
SPARK
MOL Romania
RENOVATIO e-charge project
This award goes to FORD for the launch of Romania's first hybrid vehicle. U.S. carmaker Ford Motor Company has started manufacturing a new hybrid car, an electrified new Ford Puma, following a EUR 200 million investment in Craiova, Romania.
Ian Pearson, President, Ford Romania, said: "Thank you for this extremely important award. I was going to say that e-mobility represents the future of the automotive industry but it is more than this. E-mobility represents the future of moving people and goods from A to B using any mode of transport. We are very proud that with the Ford Puma we are the first car manufacturer to produce a mild hybrid vehicle in Romania. Today almost 80 percent of all the Pumas that we sell are mild hybrids and that demonstrates the people both love the vehicle but they are also looking for a vehicle with better fuel consumption and a lower CO2 footprint than traditional gasoline in engines. Thank you once again for this award. It's very special for the whole team at Ford Romania."
TECHNOLOGY PROVIDER OF THE YEAR – NXP SEMICONDUCTORS ROMANIA
NXP SEMICONDUCTORS ROMANIA
PREH ROMANIA
MENNEKES
This award goes to NXP SEMICONDUCTORS ROMANIA for the contribution in 2020 to the NXP S32 software ecosystem. The teams in NXP Semiconductors Romania have delivered in 2020 a wide variety of software packages that are in high demand with Automotive Customers, including feature-full and performance-optimized Board Support Packages for RTOS, Linux, and QNX, easy to use integrated development tools under the S32 Design Studio brand for application development, debugging and configuration, reliable security and safety products, application-specific SDKs for Radar, Vision, and AI, and reference design for integrated products that accelerate customer applications.
Radu Pavel, Country Manager NXP semiconductors Romania, said: "This is a heart-warming award as it recognizes the achievements of a wonderful engineering team. It is safe to say that our software developed right here in Romania exists today in your current cars and it is the heart of your future cars. It is really a great award to receive and I am thankful for this and it's my pleasure to accept it in the name of our great engineering team."
COLLABORATIVE INITIATIVE OF THE YEAR – OMV PETROM & ENEL X
THE NEXT-E PROJECT: E.ON Group & MOL Group
OMV PETROM & ENEL X
CONTINENTAL SIBIU & ORANGE ROMANIA
BOSCH & Technical University of Cluj-Napoca
NXP SEMICONDUCTORS ROMANIA & MathWorks
This award goes to OMV PETROM & ENEL X for the Installation of 10 fast charging stations for electric cars in filling stations in Romania. OMV Petrom, the largest energy company in Southeastern Europe, and Enel X România, member of Enel X, the division of advanced energy services of Enel Group, will install 10 fast charging stations for electric cars, in OMV and Petrom filling stations, during the next months.The fast charging stations will be installed in OMV and Petrom filling stations covering a distance of approximately 380 kilometers on the main roads in Romania, connecting cities from the east, center and west of the country.
Alina Stoenescu, Project Manager, OMV Petrom, said: "Thank you for the award. We are pleased to see that our partnership is being recognized by the automotive industry. We do believe that the answer to the mobility needs of our customers relies on a mix of classic and alternatives solutions. For the development of the electromobility one important driver is the recharging infrastructure."
Mihai Mardale, Head of E-Mobility, Enel X, said: "Thank you for this award. It was quite surprising for us to be honest. In this field of e-mobility we are still facing the chicken or the egg dilemma in the sense that one of the reasons why people don't buy electric cars is the fact that there are not enough charging stations. Companies, on the other hand, do not invest in installing charging station because obviously there are not enough electric cars. Through our partnership with OMV Petrom we are trying to fix this problem, we are glad to offer clients more flexibility for their mobility needs."
EDUCATION COMITTMENT AWARD – GRUPUL ROBERT BOSCH ROMANIA
DACIA
CONTINENTAL SIBIU
GRUPUL ROBERT BOSCH ROMANIA
DRÄXLMAIER HUNEDOARA
SCHAEFFLER ROMANIA
MICHELIN ROMANIA
HONEYWELL
SMART-CITY ACADEMY & THE MAYORS' ACADEMY
NXP ROMANIA UNIVERSITY PROGRAM
Bosch develops long-time educational programs dedicated to students and students passionate about technology. Bosch, a global leader in the provision of technologies and services, is constantly developing initiatives that support the relationship between education and the business environment in Romania: from master's programs, courses at major universities in the country, or international competitions in the field of self-management, such as Bosch Future Mobility Challenge, at the dual school and even at the establishment of its own Training Center, in Cluj, in 2017. In addition, Bosch supports young people at the beginning of their careers through programs for students preparing in Bosch locations in the country, along with mentors within the company.
Mihai Boldijar, General Manager Bosch Romania, said: "Thank you very much for this award. I'm really honoured to gain such acknowledgement. It's also a great responsibility and we will continue to do so. It was our belief that only investing in training, education we can lift the level of knowledge, of understanding, of being much better prepared for the future and to face all the challenges we will have. We will invest much more in training, much more in education and I do hope all other colleagues here will do the same because the future of our nation lies on how much are we going to invest in education. Thank you The Diplomat team for a great event today."
SUSTAINABILITY AWARD – CONTINENTAL ROMANIA
SCHURTER Group ROMANIA
VITESCO TECHNOLOGIES
GRUPUL ROBERT BOSCH ROMANIA
CONTINENTAL ROMANIA
SCHLEMMER GROUP
This award goes to Continental that has launched its own innovative power generation system in Timisoara location. Continental has launched its own innovative power generation system in Timisoara location. This new technology works exclusively using gas and due to this, the electronic components factory ensures the necessary energy required for the constant supply of production lines and the air conditioning system. Moreover, this energy system provides hot water at 90ºC which can be used in winter time for building heating system and for cooling through absorption chillers. The cold water was produced using electricity from a private supplier and the hot water was produced using dedicated gas heaters. The total investment exceeded 2.5 million euro.
Christian von Albrichsfeld, Head Of Country Continental Romania, said: "We have just launched our own power generation system in Timisoara factory. We also use the system for heating in the winter and for cooling in the summer. With this system we can double the efficiency of the system in the direction of more than 90 percent of the energy which we generate, and we can reduce the CO2 emission of our activities"
CSR AWARD – FORD ROMANIA
FORD ROMANIA / FORD FUND
CONTINENTAL ROMANIA
DRÄXLMAIER
MOL ROMANIA
NXP SEMICONDUCTORS ROMANIA
The award goes to Ford Romania that announced the finalization of a 100,000 USD investment at Craiova County Emergency Hospital, supported by Ford Motor Company Fund, the philanthropic arm of the company. The investment was made working with their international grant making partner GlobalGiving and the non-profit association Rotary Craiova Probitas.
Deborah Chennells, Ford Fund manager, said: "It's wonderful to be part of this event. Congratulations to all the nominees and winners so far this evening. We are absolutely delighted with this award. It's fantastic to be recognized for our continued support of Craiova County Hospital. Our mission is to strengthen communities and make people's lives better."
SUPPLIER EXCELLENCE AWARD – ROMBAT ROMANIA
SCHAEFFLER ROMANIA
LEONI
AUTOLIV
ROMBAT ROMANIA
COINDU
EMERSON
MENNEKES
METAIR
CONTINENTAL ROMANIA
FAURECIA ROMANIA
This award goes to Rombat for the 12 million euros worth investment in a Li-ion battery factory for electric cars. The new factory in Bucharest will become operational in February 2020. The car battery manufacturer Rombat from Bistrita, controlled by the South African group Metair, has invested 12 million euros in a technological line for the manufacture of li-ion cells, with an annual capacity of 1,000,000 units. The factory is located in Bucharest, has two levels and occupies an area of 5,000 square meters.
Ioan Repede, General Manager Rombat, said: "Thank you very much for this award. I dedicate it to the entire Rombat team for all the efforts done over the years. We have special respect for both our customers and suppliers. If we look at our OEM Romanian customers, we have been the exclusive supplier for Dacia Renault since 1997 and supplier for Ford since 2019. Thank you very much for this award. It honours us and motivates us for the better."
CEO OF THE YEAR – IAN PEARSON, President Ford Romania
This award goes to Ian Pearson for the successful launch of the Puma SUV in Craiova. Ian Pearson returned to Craiova where he had previously been responsible for running Craiova powertrain operations from 2011 to 2014. He is the Vehicle Operations and Site Director at Ford Craiova since March 2018.
Ian Pearson, President, Ford Romania, said: "Thank you everyone for this award especially those who considered I was worthy of it. I'm very humble and honoured to win such an award when you consider the other nominees who were selected. I have great respect for my fellow Romanian CEOs. The challenges faced especially this year have been extraordinary and yet not only are the Romanian businesses still open for business but many have strengthened and grown and developed. That's because leaders like Romanian leaders on this call are passionate about what they do include seeing and seizing the opportunities that this great country and the great people of this country have to offer. I understand that the title of CEO is important but I don't see myself as a chief, an executive or an officer. I see myself as someone who has been given a unique responsibility to maintain and grow this exciting business but mostly to serve the people that I am honoured to lead, to encourage them, to challenge them, to teach them, to support them when they fail, to learn from them every day. I love working with the Ford Romania team. Thank you very much for honouring me with this award. It's very special."
COMPANY OF THE YEAR – AUTOMOBILE DACIA
FORD ROMANIA
AUTOMOBILE DACIA
CONTINENTAL ROMANIA
SCHAEFFLER ROMANIA
NXP SEMICONDUCTORS ROMANIA
This award goes to Dacia. The Romanian brand once again surprised the automotive world, with a unique proposal in the sedan vehicle segment. Thus, for the best-selling model in Romania (Sandero), the new Stepway versions, with a modern and attractive design, are available starting November 14, 2019.
Cecilia Tudor, Communication and CSR director Groupe Renault Romania, said: "It's really an honour for us to receive this award for excellence. In the last 21 years Dacia has radically transformed into a brand with international presence, with more than 7 million cars sold in more than 40 countries. Dacia is a young brand that conquered clients from different cultures. Dacia is also a great ambassador for our country and a source of inspiration for our students who chose Dacia as a study case in their works.
---
Trending Now