Romania to rise as regional automotive hub
Posted On November 12, 2018
---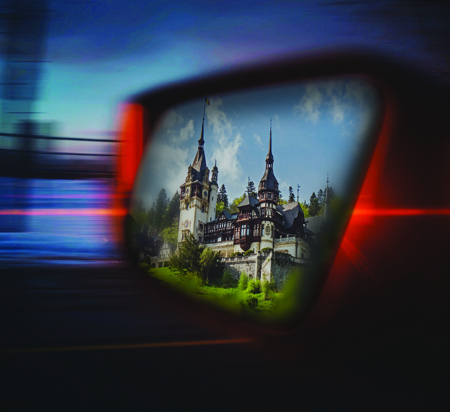 Romania's automotive market has been growing by an 18 per cent year-on-year average since 2009 and is forecast to exceed 20 billion Euro by 2020. It is the fourth largest automotive manufacturer in the CEE region, according to the Association of Automobile Constructors in Romania (ACAROM).
In the last decade, more than 600 OEMs for automotive supplies opened plants in Romania following the investments of two big automotive manufacturers at Craiova and Mioveni, namely Ford and Renault.
The automotive industry is a sector of national importance, with a high share in the country's exports, number of employees and turnover, located in all areas of the country and with great potential for development.
In 2017, Romania's automotive industry had a 13 per cent share of the GDP. Last year, Romania's exports accounted for approximately 62.6 billion Euro, of which almost half were related to the automotive industry. The local automotive market has risen from a turnover of eight billion Euro in 2009 to more than 23 billion Euro in 2017, according to an estimation by ACAROM.
Analysts estimate that Romania's car production will follow an upward trend, mainly due to competitive salaries and Romania's strategic positioning between Asian and European markets. Specifically, they estimate an increase in vehicle production of two per cent, reaching 377,464 units in 2018 and an average of 4.6 per cent for the 2018-2022 period, which is, however, well below Poland and Slovakia, with a projected production of 775,889 and 1,137,177 units respectively in 2018. Thus, Romania is producing about half of what Poland produces and a third of what Slovakia produces.
In terms of total vehicle sales, Business Monitor International (BMI) estimates it will increase by 10.8 per cent in 2018, by 6.2 per cent in 2019 and by an annual average of 5.7 per cent by 2022, due to strong growth of segments of light commercial vehicles and passenger vehicles.
"These segments benefit from a strong consumer base, as Romania's economy grew strongly in 2017 and will continue to do so for the rest of the forecast period," says Daniel Anghel, tax and legal services leader at PwC Romania. "Decreasing unemployment and rising average wages suggest that household incomes will increase in the coming years. This will allow consumers to spend more on durable goods such as new cars and at the same time increase the retail segment in Romania, which will benefit the sales of light commercial vehicles. However, private consumption may slow down slightly in the coming years as inflation starts to rise, stimulating the increase in the interest rate, which will make financing more expensive," he tells Automotive Today.
Romania's need for predictability and better infrastructure
Romania's automotive industry's development can head in several directions, either by attracting new investors or by expanding already created ecosystems in the production facilities in Craiova and Mioveni.
"In terms of attracting new investors, and not just about the automotive field, the predictability of the economic environment is particularly important," says Anghel. He claims that Romania needs to be able to offer companies a stable framework in which they can plan their businesses in the medium term without the rules being changed during the game.
Equally important is the development of the transport infrastructure, probably the main cause why Romania is continuously losing numerous investors in the automotive industry.
An opportunity for the development of the automotive industry would be the improvement and expansion of transport routes for commercial vehicles. Romania has 14 international airports, about 11,000 km of railways, but only 747 km of motorways, although it has access to EU funds. As a result, the progress in modernizing the transport infrastructure is very slow and the underdeveloped regions of Romania remain isolated and unattractive to investors.
"The development of the automotive industry – by bringing new models into production to the two local producers – needs above all to deliver the promised infrastructure projects," says Anghel, who believes  the future of the local auto industry is very closely related to how the infrastructure will develop and will be able to sustain a high production flow.
The predominance of automotive companies in the western region of Romania is based on the connection with the European motorway network and clearly shows that infrastructure investments are urgent in other regions, such as Moldova, according to Ciprian Gavriliu, tax partner at Deloitte Romania.
"Romania's priorities should be the construction of the Bucharest ring road in order to connect with the A1 and A2 motorways, the Pitesti-Sibiu motorway and the construction of a direct link between Moldavia and Transylvania," he tells Automotive Today. "At the same time, the improvement of railway infrastructure is vital, as the average speed has been lowered to a historical minimum. Without these projects, Romania is losing competitiveness and risks losing investors."
As far as the car market is concerned, Romania has seen three years of consecutive sales growth, with clients showing a great interest in both new and old cars.
Brent Valmar, general manager of Porsche Romania, says that the company's sales are almost double compared with five years ago, with a total of 1.5 billion RON in 2013 and 2.9 billion RON in 2017.
"The current challenges, however, are different and are related to the new technologies, connected cars or the development of online sales channels," he tells Automotive Today. "Equally, over the past year, we have seen a great deal of interest in old cars, many of which have a high degree of pollution and a lower safety level than new models. As a trend, we see an increasing appetite for larger cars such as SUVs."
Valmar goes on to say that Romania is at a stage of economic growth and demand in the auto sector is high. He believes it is important for authorities to get involved by taking measures to renew the national car park.
Porsche Romania estimates the car market will continue to grow, and the company goal is to exceed the threshold of 50,000 units sold annually, by 2025.
As far as the Romanian clients are concerned, Valmar sees a great diversification of propulsion methods in the automotive field, with hybrid cars growing in popularity in recent years.
"We also have a very good presence in the segment of compressed gas cars. I also believe that in the near future more hydrogen models will appear on the market. The entire automotive industry is looking to identify models with minimal environmental impact," he explains.
Operational leasing – a growing market
The automotive industry has seen a strong development in recent years gradually becoming one of the main pillars of the Romanian economy. Closely related, operational leasing is one of the areas that have gained a growing market share in recent years. As a result, 2017 has seen an 11 per cent increase in vehicle registration over the previous year, with 66,000 new entries, according to Philip Aarsman, general manager of Business Lease.
He claims that the investments the biggest players in the industry have done in recent years, both for strengthening local investments and for positioning Romania on the map of R&D hubs, are a signal that the development potential of the auto industry is promising for Romania.
But in order to remain competitive, Aarsman says the automotive industry first requires investments in transport infrastructure, legislative stability, stimulating the education system and adapting it to market requirements.
"At the same time, Romania must keep up with the changes taking place internationally, where we see a clear effort to combat pollution in major cities and an opening to the purchase of eco-friendly cars at the expense of diesel or gasoline engines," he tells Automotive Today.
"New ways to develop mobility, such as car-sharing, ride sharing, bicycle, train, subway, rented autonomous vehicles, are emerging from this environment protection trend. The adoption of these new concepts in Romania is still in its early days, but the emergence of alternative transport services is a clear sign this is the direction to which we are going to turn."
But the big problem for the local market remains the import of old and used cars, which filled the gap created by the slow new car deliveries, as described by Dan Boiangiu, general manager of Arval Romania.
However, he believes that the Romanian automotive industry will continue to align with the Western European practices and standards not only in terms of product policy for vehicles, but also in terms of quality of service related to them.
"I think it is very important to mention that players in the financial services market represent a positive growth driver for the automotive industry, both in terms of quality and quantity," he tells Automotive Today.
The race for electrification
A PwC study shows that nearly 55 per cent of new cars globally could be electrified by 2030. That means either full electric or hybrid – which represents a big transformation of the industry paradigm and the way this product is "consumed".
Large car manufacturers have already announced their willingness to invest significantly in new technologies in the coming years.
Last year, for example, 140 per cent more electrified cars were sold in Europe than in 2016, after an increase of about 40 per cent over 2015.
"In Romania, we can talk about an increasing popularity of electric and hybrid cars, especially during the last two years," says Anghel. "A decisive role could also be played by government subsidies through 'Rabla Plus'. But overall, the whole market needs more than that, especially if we look at things in terms of the purchase price for such cars."
According to statistics from the Association of Car Manufacturers and Importers (APIA), in the first four months of this year, over 1,000 electrified cars (hybrid or fully electric) were sold, which means an increase of 83 per cent compared to the same period in 2017. There has been an increase of over 417 per cent in the sales of full electric cars and over 52 per cent of hybrid cars.
For the whole car market, the share of alternative propulsion vehicles was 2.3 per cent for the first four months of 2018, compared to 1.7 per cent in the same period of 2017.
Romania has a lot of catching up to do when it comes to the infrastructure for these electrified vehicles, namely the charging points, while other countries are early adopters of this new technology.
"In Romania the increase in the number of electric and hybrid vehicles from year to year is very high, percentage wise, being encouraged mainly by the financial incentives offered by the authorities, but the prices for these vehicles are still high and the infrastructure necessary for their use is still incipient," says Gavriliu.
He expects the Romanian market to follow the European trend, especially in the context of the growing pressure of European authorities to promote clean vehicles.
At an international level, there is a constant concern for protecting the environment and reducing greenhouse gas emissions. More and more countries are taking measures to protect the environment, while electric and hybrid cars are gaining ground against vehicles equipped with traditional engines.
"In Romania, although volumes are still low compared to countries such as The Netherlands or Norway, we expect the growth rate to increase as the infrastructure of the loading stations develops," says Aarsman.
"Organizations' interest in contracting operational leasing eco-friendly vehicles is steadily increasing in countries such as The Netherlands, the Czech Republic, Hungary, Slovakia and Poland. This approach shows us a sustained orientation of the organizational system towards environmentally friendly alternatives," he adds.
What about the consumers' interest in these clean vehicles?
Electric mobility is a paradigm shift that will not happen overnight, but the Romanians are open to new and they can understand the advantages of these cars, according to Brent Valmar.
He estimates that more and more clients will use the state incentives to purchase a new electric or hybrid vehicle.
"We are waiting for companies to renew their fleet to take a step towards adopting electric / hybrid models," says Valmar. "They meet the internationally accepted values of many of the active companies in Romania. We have had customers on the fleet segment so far, who said they intend to own a car fleet only with electric models."
In the first half of this year Porsche Romania delivered 141 electric and hybrid vehicles with the latest technologies and a higher degree of autonomy and inter-connectivity.
Mobility services
Technological development has raised customer demands, regardless of industry. Today's client is better informed, makes more rational choices, and has a wide range of products to choose from. Coming back to the automotive industry, there are many instances when technical, engineering or car development elements are no longer taken into consideration in the purchasing decision.
Some analysts say that Elon Musk changed the course of the industry with his bet on electric cars, namely the launch of Tesla Model S six years ago.
Traditional manufacturers have quickly adapted to the new trend and have made significant investments for developing electric and hybrid cars.
"We can say that the car market has started a double race, for the autonomy of the electric power train, on one hand, and on the other hand, that of the alternative to the internal combustion engines," says Anghel.
In his opinion, clients want a competitive market that offers them viable alternatives whether they want an electric car or an internal combustion engine.
"Automotive industry competition is beneficial for technological development, but especially for refining customer tastes," he explains. "It supports market development by educating the market. And here I think the most prominent example is the Dieselgate, which has led to a drop in diesel sales – the latest statistics show that, at the level of the European Union between 2015 and 2017, the share of sales of diesel-fuelled engines has fallen from 52 per cent to 45 per cent. By 2030, they could reach five per cent."
Digital interaction with the car has reached a new level, it is the reason why we see more and more technologies that make driving easier, more fun and also ensure a high degree of traffic safety. Some car manufacturers have developed several technologies that allow communication between cars, thus alerting drivers of potential traffic hazards.
Europe's car fleet could fall from 280 million to 200 million units by 2030, according to a PwC study.
The study speaks of a particularly important change in how the car will be used in the future and predicts that by 2030 more than one in three kilometres will have gone through some form of sharing.
This shift towards ride-sharing is closely linked to two mega-trends in the automotive market: the popularization of electric vehicles and the very strong advance of the development of autonomous cars.
The way it is adopted by the public depends on several factors, one of which is economic development. "Investing in such platforms, allowing short-term rental of specially modified and adapted cars for this type of driving, requires very robust analysis, both in terms of efficiency and public appetite for access to such services," the study shows.
Overall, mobility services will change the way the car is perceived and the way we each exploit it. The same study talks about modifying the business model of sub-assemblers in the context that the wear and tear of ever-increasing fleets of cars used in different sharing concepts will be quite different compared to traditional use. Moreover, the development of the automotive industry in the electrified alternative propulsion area will bring new business models where technology and telecommunications will intersect with the automotive industry.
---
Trending Now
You may also like