Ian Pearson, Ford Romania: "We will make more cars this year than we have ever made"
Posted On November 12, 2018
---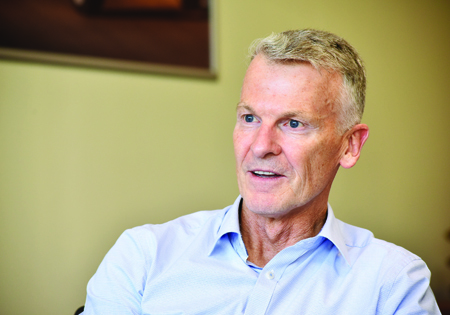 Ford confirmed it is investing up to 200 million Euro and adding an additional 1,500 jobs this year to manufacture a second vehicle at its Craiova Assembly Plant, in southwestern Romania.
The new vehicle is an addition to the EcoSport small SUV currently built in Craiova, plus Ford's 1.0 litre EcoBoost engine. The model and start date for production of the second vehicle will be confirmed closer to launch.
Ford's overall investment in its Romanian manufacturing operations – including the 200 million Euro investment announcement – is nearly 1.5 billion Euro since acquiring the Craiova facility in 2008. Significant upgrades have recently been made to Craiova's vehicle operations, with more than 550 robots installed at the facility to further improve efficiency and quality in the paint, trim and chassis, and body shops.
In this context, Automotive Today talked to Ian Pearson, plant site director and president of Ford of Romania board of directors. Ian Pearson returned to Craiova where he had previously been responsible for running Craiova powertrain operations from 2011 to 2014.
The Romanian automotive industry is in a growth period, with significant increase in terms of new vehicle sales. Ford is currently number three on the market with a market share of around eight per cent. This means the company has sold just under 10,000 cars from the beginning of this year to August.
"Clearly, we would want to be number two and then number one on the market," says Pearson. "We see this year as a solid growth as far as Romania is concerned. We'd like to sell more vehicles, we'd like to be number one and that's what we're aspiring to become," he tells Automotive Today.
Pearson claims that the EcoSport, made in Craiova, has been received very well by the customers in all of the markets and Romania is no exception.
"From our very local perspective, what we see in Europe and Romania as well, is growth with SUVs and the fact that EcoSport is made in Craiova is great for us," he adds.
Brexit – the upcoming challenge for the automotive industry
In his opinion, one of the biggest challenges for the automotive industry is the outcome of Brexit. The perfect scenario for all manufacturers would be a "no tariffs" scenario and the same arrangements in terms of customs.
"We would like to see one legislative framework in Europe," says Pearson. "From a vehicle point of view, we don't want to see different rules or regulations in the UK vs. the rest of Europe so it's very important the legislative framework is in place. Essentially what we don't want to do is to add unnecessary costs to our products," he explains.
A hard Brexit is the worst scenario and that would be unpleasant for most of the manufacturers. Ford Europe estimates that the cost of a hard Brexit will be around one billion USD a year.
"It's a significant impact for all of us," says Pearson. "Two of our engine plants are in the UK. The diesel engines that we put in our vehicles come from the UK and a lot of other parts come from Europe. We'd have parts from Europe going to the UK, subject to customs and tariffs. The products manufactured in the UK will then be shipped to us in Europe, subject again to customs and tariffs. So, it would be a significant impact," he says.
Pearson feels that Ford needs to keep its options open in terms of the outcome of Brexit, and to wait for an outcome before considering any financial or economic decisions.
Another delicate subject for the automotive industry is the current slump in diesel engine sales across Europe, a rather emotional decision for most of the customers.
"It has been a move with personal buyers to switch from diesel to petrol," says Pearson. "What we haven't seen so much at this moment is a move for commercial vehicle buyers. Still, if we take the commercial vehicles we sell, 95 per cent of those customers want diesel engines because they recognize their clean diesel," he says.
Pearson goes on to say that there will be a move into hybrid vehicles first, and then into pure electric.
"As we go forward we will see is that the number of pure internal combustion engines will go down. So, we see that there will be a shift as we go forward in terms of electrification." he adds.
The issue around electric vehicles refers to mass production because it does not make "a good business equation". It is not affordable from a mass production point of view and almost every manufacturer who produces an electric vehicle loses money on that electric vehicle because the technology is not that advanced at this moment, because the costs of the batteries and the electric motors are still very high.
Charging time is also an issue, but the biggest single problem is the infrastructure, according to Pearson.
"With some exceptions, such as The Netherlands, you have an advanced structure in terms of charging points but if you take the likes of Germany, the UK and France we've gone into a joint consolidation with a number of companies to increase the number of charging points," he says. "Until that infrastructure is in place I think it's going to be very difficult in terms of practical everyday use."
What is his opinion with regards to the ban on diesel engines in the major cities of Europe?
"We can't legislate for how individual cities or their countries decide to approach the diesel problem. From a company point of view, whatever their approach is, we have to make sure that we got the right ofference to be able to support that."
Infrastructure – the same old problem for Romania
Ford Romania had a recent meeting with the Transport Minister, where the main topic was the need to improve Romania's road and railway infrastructure, according to Pearson.
"The conversation wasn't specifically around the need to improve infrastructure, but that was a large part of it," he says. "It was really just to explain the reasons why infrastructure is a competitive disadvantage to Romania. A lot of companies come to Romania because of a competitive advantage and part of that advantage is the labour condition in the country."
Pearson explains that most of their parts come from Western Europe to Craiova by road or train: "If they come by train almost 1.500 kilometres from the middle of Germany to the Romanian border, that train can travel at an average of 50 km/h. As soon as it hits Romania, it gets stuck but eventually when it gets going you can only go 30 km/h for 500 kilometres. So, it has taken just as much time to get from the Romanian border to Craiova as it takes to get from northern Germany to Romania and that doesn't make sense. If you take the same journey on the road, the average speed for a truck is 75 km/h until it hits the Romanian border. Once it hits the Romanian border, it drops to around 40 km/h. This not only represents an issue in terms of costs because it takes more time, but it's also an issue in terms of stability."
The issue here for Ford is that the company has to make sure that the parts arrive when they're supposed to arrive.
"We have generally a one-hour time delivery window," says Pearson. "If the parts aren't there, we have to hold more infantry, more stock of parts and that puts another cost for the company as well. The conversation with the Minister was that we would like better roads. We discussed about the express road from Craiova to Pitesti. We talked about the southern ring road and that would be ideal for us. We also need the modernization of rails."
As far as infrastructure is concerned, Ford Romania wants more predictability in order to improve its activities on the Craiova plant site.
Dual education and STEM subjects
Pearson supports the idea of improving Romania's education system to make sure that when children, students or young adults leave school or universities they have the qualifications and the skills necessary to enter any business or industry.
"We've been working hard with the Ministry for Education to talk about the curricula in schools, how to create more technical schools through dual education," says Pearson. "We've been talking to the local university about the types of courses that they want and the content of those courses because we have a lot of people who leave university with the right name on the degree but not necessarily with the right skillset that goes with that. All together we need to ensure that we put the right package in place so that children when they leave school, adults when they leave school, have all the right skillset that they need, and we need," he explains.
"We had a roundtable last month in Craiova with central Government, local Government, local business. It's clear after the discussion that everyone has the same needs and hopefully next September we can start with the first pilot dual education program in Craiova. There are things we've done sort of independently. Through the Ford Fund we invested 100.000 USD into a local high school, to set up a mechatronics laboratory."
Pearson goes on to say that Ford is encouraging STEM subjects, which stands for science, technology, engineering and maths. We make sure we talk to children at a much earlier age so that when the children and the parents make decisions about subjects that they want to do in the future they see these subjects as a future career path.
Romanian market – from second-hand cars to electrification
Romania is currently dealing with a large number of second-hand cars and the authorities are trying to use the "Rabla" scrappage scheme as a solution. Considering the electrification trend, we should get rid of the old cars and promote new clean ones, such as hybrids or electric cars.
Pearson believes the scrappage scheme provides a good incentive and Romania should encourage incentives for new cars.
"It is helpful and is one of the reasons why the number of new car registrations has increased this year," he says. "I think Romania should also disincentivize the purchasing of old polluting cars whether through taxations or other ways. We also need to educate people on the harm that those vehicles do to the environment. There are a number of things we need to do in terms of educating people to purchase clean vehicles, but we need to make sure those vehicles are affordable at the same time."
Talking about the evolution of electric vehicles in Romania, Pearson indicates the lack of charging points as the biggest single barrier to the development of this market.
"You want to be able to not be concerned about where you have to be, in what time or kilometres in order to charge the car," he explains. "I think that in any country, and specifically in Romania, with the lowest density of charging points in Europe, the infrastructure needs to be improved. Once you get the infrastructure in place, then the number of electric cars will increase. That's why we think that on the shorter term the move will be more to hybrid, so you allay some of those concerns. We see hybrid as the opportunity in the short to medium term to improve fuel consumption, to reduce emissions, and alleviate some of the fears and the anxiety of customers in terms of infrastructure. Eventually and probably driven more by legislation and consumer demand, we'll see more and more electric vehicles."
In his opinion, going hybrid is the only practical way for Romania to go forward and the most effective one given the current market conditions.
Ford to continue its local market growth
The main objective for Ford Romania is to grow from a sales perspective but also from a manufacturing perspective, according to Pearson.
"We will make more cars this year than we have ever made," he says. We've announced that we will bring the second product so one of my challenges will be to make sure that is launched successfully. So, we're going to bring a second product while continuing the production of the current product."
"From the manufacturing point of view, the reasons we are here is because we are competitive. We have to win business, not only to get in the business. The competitive advantage that we have, for me it's the people. They are brilliant to work with", Ford Romania's president concludes.
---
Trending Now
You may also like